Abdelwahab Doukkali -
عبد الوهاب الدكالي
Biography of Abdelwahab Doukkali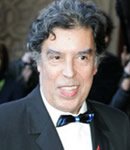 Abdelwahab Doukkali, Moroccan singer, was born 1st January 1941.
Abdelwahab Doukkali is one of the Moroccan artists who built Golden age of Moroccan music .
Throughout a hundred of songs and compositions including '' Kan Ya Makan'', ''Souk Al Bacharia'', ''Marsoul el houb'' and so on, Abdelwahab Doukkali brought a lot to the most important musical repertoire of Morocco.
Comments on Abdelwahab Doukkali
Place a link to the page of Abdelwahab Doukkali on your website or blog
Post to your blog
Permanent link
BB CODE
Official Website of Abdelwahab Doukkali, photo of Abdelwahab Doukkali, song de Abdelwahab Doukkali, album of Abdelwahab Doukkali 2023, music video of Abdelwahab Doukkali , word of Abdelwahab Doukkali , listen Abdelwahab Doukkali mp3