Abdessadek Chakara -
عبد الصادق شقارة
Biography of Abdessadek Chakara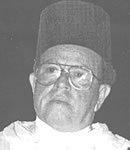 Abdessadek Chakara is a famous Moroccan singer born in 1931.
Abdessadek Chakara made his first steps toward a legendary singing career with the help of his parents who taught him the Dikr and Samaa (religious songs) and initiated him to Andalusian music. Later, he learnt principles of El Madih (a singing style flattering the Prophet) and Andalusian music and played traditional violin. Abdessadek Chakara then met his first inspiration Cheikh Sidi Arfa El Harrak.
At the age of seventeen, Chakara joined Sidi Arfa's group and started performing in private parties and musical shows. In 1974, he entered the music conservatory of Tetouan where he met such eminent Moroccan musicians as Elayachi Elourakli, El Arbi El Ghazi and others. by 1957, Abdessadek Chakara formed his own group Tetouan Music Conservatory Group which widely contributed to give Moroccan audiences a highly-qualified Andalousian music.
Abdessadek Chakara was recognized for having develop musical patrimony of Tetouan especially Braouil, Lhadra, Taqtouqa.
Abdessadek Chakara's most popular works were "Taqtouqa Al Jabalia", "A Bent Bladi" and "Alalla Moulati".
Place a link to the page of Abdessadek Chakara on your website or blog
Post to your blog
Permanent link
BB CODE
Official Website of Abdessadek Chakara, photo of Abdessadek Chakara, song de Abdessadek Chakara, album of Abdessadek Chakara 2023, music video of Abdessadek Chakara , word of Abdessadek Chakara , listen Abdessadek Chakara mp3