Abidat Rma -
عبيدات الرمى
Biography of Abidat Rma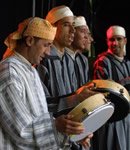 Abidat Rma, Moroccan band.
Abidat Rma is a Moroccan musical style which first appeared in regions like Kordigha, Chaouia, Tadla and Elhawz and, far from music, consisted in a popular show including fantasia competitions. Abidat Rma, which means shooters, elected one person to organize the activity of each group and present them in all events. Other than his organizing skills, this person was necessary a very talented poet whose mission was to praise the band talents. Later, Abidat Rma regularly gave shows including the competition and a musical show based on poetry, dance and music.
Abidat Rma is one of the most important and acclaimed bands in Morocco. Their songs are devoted to express society's complaints and expectations through music and dances deeply-rooted in Moroccan patrimony.
Place a link to the page of Abidat Rma on your website or blog
Post to your blog
Permanent link
BB CODE
Official Website of Abidat Rma, photo of Abidat Rma, song de Abidat Rma, album of Abidat Rma 2020, music video of Abidat Rma , word of Abidat Rma , listen Abidat Rma mp3