Aflak -
أفلاك
Biography of Aflak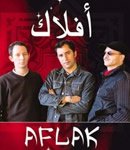 Aflak, also the Fayet Brothers, is a Moroccan band of Marrakech-born brothers : Aziz, Lucien and Jamal Fayet.
The Fayet brothers grew up in Morocco and then moved to France, Mourenx by 1980. Other than their Moroccan musical heritage, they quickly felt attracted to western rhythms and tried to make a delicious mix of both. Thus, they devoted sophisticated instruments like synthesizers and electric guitars to play Moroccan songs. The style they developped was called Marock'N'Roll and their music was so acclaimed that Aflak Group was a pioneer of young modern Moroccan music and performed at several international festivals (Alger, Tunis, Bruxelles, Paris, Bonn...). Aflak was then lined-up five other musicians (Drum, sax,bass, guitar, percussions).
In a short time, Aflak conquered all audiences and made a large fan base especially of Moroccan immigrants all over the world. Their new style was highly admired and gave a modern look to ancestral Moroccan music.
Aflak's first Album was a big hit in Morocco and their renown took them to many arabic TV shows, concerts and western festivals: Paris (Bataclan, Le bourget SMAP), Brussels (Palais des congrés, Cirque Royal) Deutchland Tour ( Bonn, Dusseldorf, cologne,) and Morocco Tours (the Mohamed V theater, Agadir, Casablanca, Rabat...)
Aflak lastest Album is "Dinimaak ".
Place a link to the page of Aflak on your website or blog
Post to your blog
Permanent link
BB CODE
Official Website of Aflak, photo of Aflak, song de Aflak, album of Aflak 2023, music video of Aflak , word of Aflak , listen Aflak mp3