Amarg Fusion -
أمارغ فوسيون
Biography of Amarg Fusion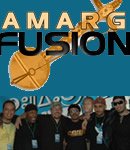 Amarg Fusion, Moroccan Amazigh music band, was formed in Agadir, Morocco by quite-talented musician: Aberahim Moustaïne (Guitar), Mounir Kaddour (Piano and Keyboard), Ali Faiq (Vocals), Ahmad Ouarsass (Outar and Guitar), Foulane Bouhcine (Ribab), Jamal Oussfi (Drums) and Rahal Bouaddi (Guitar).
Amarg Fusion has just one aim: combine each member's talent to create a new musical style based on Rwayes (Souss troubadours) expressed with rhythms of the world.
Amarg Fusion believes that their music can speak all languages of the world; it can also bridge all cultures and identities and then transport beyond borders an Amazigh music full of culture. Amarg Fusion bridges generations and cultures.
Place a link to the page of Amarg Fusion on your website or blog
Post to your blog
Permanent link
BB CODE
Official Website of Amarg Fusion, photo of Amarg Fusion, song de Amarg Fusion, album of Amarg Fusion 2020, music video of Amarg Fusion , word of Amarg Fusion , listen Amarg Fusion mp3