Aminoffice -
امينوفيس
Biography of Aminoffice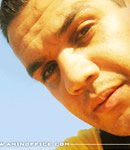 Aminoffice, of his full name Amine Benammour, was born in 1976, in Morocco. He is now one of the most influencal Moroccan Rappers.
Aminoffice started performing at the age of seventeen while he formed his first band together with a classmate of his. The band, named Dragons Blanc, was the first Moroccan band to be broadcasted on local radio stations and Tv Channels – RTM.
Aminoffice then joined Double A Moroccan band. Later, he moved to France and launched a solo career.
Aminoffice is based in France. He participated to Agadir's Festival of Timitar in 2005.
Place a link to the page of Aminoffice on your website or blog
Post to your blog
Permanent link
BB CODE
Official Website of Aminoffice, photo of Aminoffice, song de Aminoffice, album of Aminoffice 2020, music video of Aminoffice , word of Aminoffice , listen Aminoffice mp3