Archach -
أرشاش
Biography of Archach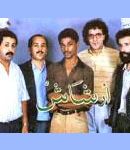 Archach is a Moroccan group which was founded by Moulay Ali Chouhad.
The story of the group is Ali Chouhad's one. He was born in 1957 in Issaffen between Taroudant and Tata cities (Morocco) to a poetry-fan family. In his childhood, Archach had a gift: he imitated perfectly humans, animals and birds sound. Later, he tried his hand at poetic satire.
At the age of thirteen, he dared confront notorious poets during Ahwach séances (danced poetry) which experience brought him a lot of self-confidence. He also committed to memory a whole repertoire of poetry like Boubakr Aze'ri's, Boubakr Anchad's and other.
In 1976, Archach founded Izmazm musical group. In 1979, he created Archach together with some of Issaffen young musicians.
Archach is now twenty years old. It released a self-produced album every year.
Place a link to the page of Archach on your website or blog
Post to your blog
Permanent link
BB CODE
Official Website of Archach, photo of Archach, song de Archach, album of Archach 2022, music video of Archach , word of Archach , listen Archach mp3