Aziza Jalal -
عزيزة جلال
Biography of Aziza Jalal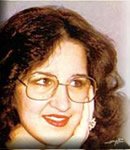 Aziza Jalal, Moroccan-born singer.
Aziza Jalal was attracted to music at a very young age. She began her singing career at 14 while participating in talent shows. She appeared to public in Moroccan show Mawahib.
Aziza Jalal rose to fame in only few years. Later on, she moved to Egypt to extend her career.
Getting married, Aziza Jalal gave up her singing career. ''Mistanyak'' and ''Halakt Oyouni Hna Wa Hnak'' are still among the most memorable songs of the Moroccan musical repertoire.
Place a link to the page of Aziza Jalal on your website or blog
Post to your blog
Permanent link
BB CODE
Official Website of Aziza Jalal, photo of Aziza Jalal, song de Aziza Jalal, album of Aziza Jalal 2022, music video of Aziza Jalal , word of Aziza Jalal , listen Aziza Jalal mp3