Bigg -
بيغ
Biography of Bigg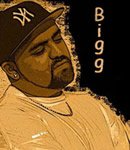 Bigg, born Hazeb Taoufik, is a Moroccan Hip Hop music performer.
Because Bigg shows much interest in youths worries and pains in Morocco such as censorship, unemployment, prostitution, poverty… , he devote his music to draw everyone's attention about it throughout provocative lyrics and a very significant musical style Hip Hop.

Bigg's latest album was ''Mgharba Tal Mout'' released in 2006.
Bigg is graduated with a degree in Law .
Place a link to the page of Bigg on your website or blog
Post to your blog
Permanent link
BB CODE
Official Website of Bigg, photo of Bigg, song de Bigg, album of Bigg 2022, music video of Bigg , word of Bigg , listen Bigg mp3