Casa Crew
Biography of Casa Crew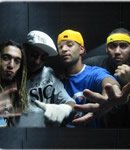 Casa Crew Moroccan Rap band was formed in 2003 in Casablanca (Morocco).
Casa Crew is now one of the most acclaimed among young people thanks to its special style which earned him also the trust of notorious shows and concerts organizers.
Every member of Casa Crew is the most important in the band. One thing is sure; all of them are good rappers. Their music is to touch everyone in every country. Casa Crew is universal.
Casa Crew's lyrics expressed street's reality, young people complaints and dreams. Casa Crew are talented jugglers who use words to claim better positions and positive reforms even with hurting messages.
Place a link to the page of Casa Crew on your website or blog
Post to your blog
Permanent link
BB CODE
Official Website of Casa Crew, photo of Casa Crew, song de Casa Crew, album of Casa Crew 2022, music video of Casa Crew , word of Casa Crew , listen Casa Crew mp3