Cheb Douzi -
الشاب دوزي
Biography of Cheb Douzi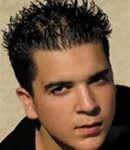 Cheb Douzi, Moroccan Raï music singer, was born in Koulouche, Morocco to a Moroccan father and an Algerian mother. One of his elder brothers is a notorious singer and composer of Raï music.
Cheb Douzi first sang at the age of five in a TV program on the Moroccan national Channel RTM, a song "Lalilharb". He then entered the conservatory of music but quickly quit because of the tough trip from his village to the conservatory. He nevertheless got a degree from one Radio Station confirming him as a Raï music artist.
Cheb Douzi first album titled '"Goulou Lmumti Tjini" was recorded in February 1994 and was very cherished by mothers.
Cheb Douzi is now living in Belgium where he recorded about ten albums and was recognized as the only Raï singer to sing in many languages: Turkish, English and French. He was also involved in the fight against racism in Belgium.
Comments on Cheb Douzi
Place a link to the page of Cheb Douzi on your website or blog
Post to your blog
Permanent link
BB CODE
Official Website of Cheb Douzi, photo of Cheb Douzi, song de Cheb Douzi, album of Cheb Douzi 2023, music video of Cheb Douzi , word of Cheb Douzi , listen Cheb Douzi mp3