Cheb Rayan -
الشاب ريان
Biography of Cheb Rayan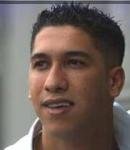 Cheb Rayan, Moroccan Raï singer was born in Tangiers, Morocco.
Cheb Rayan grew up in the north of Moroccan. Seduced by Cheb Hasni's style, he dreamed about singing career.
After albums with a moderate success, Cheb Rayan made a duet with female singer Rima. The song "Dana Dana" was a smash hit as successful in Arab Maghreb as all over the world among Moroccan and Algerian immigrants.
Cheb Rayan is reputed to have some of Cheb Hasni's style which reputation earned him a huge audience among the late Algerian artist fans.
Place a link to the page of Cheb Rayan on your website or blog
Post to your blog
Permanent link
BB CODE
Official Website of Cheb Rayan, photo of Cheb Rayan, song de Cheb Rayan, album of Cheb Rayan 2023, music video of Cheb Rayan , word of Cheb Rayan , listen Cheb Rayan mp3