Cheb Rhany Kabbadj -
الشاب غاني القباج
Biography of Cheb Rhany Kabbadj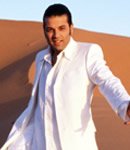 Cheb Rhany Kabbadj, also known as Rhany, is a Moroccan singer born in Marrakech to a Moroccan father, a flute player, and an Algerian mother who taught him Algerian culture.
Rhany moved to El Manzeh, Tunisia at the age of fourteen. He also lived in Paris and the United-states of America before he definitively went back to Morocco where he signed on Platinium Music.
Rhany's music was inescapably but fortunately influenced by his respective journeys, especially to Cuba, and was thus made of a wonderful meld of Maghrebian, Latino, Spanish and Hindi elements. "Khallouny" is Rhany's latest work. An eight-tracked album including a hit song "Malakt Rohi".
Rhany's was the winner of the Best North-African Singer for his song "Un mot pour toi".
Place a link to the page of Cheb Rhany Kabbadj on your website or blog
Post to your blog
Permanent link
BB CODE
Official Website of Cheb Rhany Kabbadj, photo of Cheb Rhany Kabbadj, song de Cheb Rhany Kabbadj, album of Cheb Rhany Kabbadj 2023, music video of Cheb Rhany Kabbadj , word of Cheb Rhany Kabbadj , listen Cheb Rhany Kabbadj mp3