Cheba Maria -
الشابة مارية
Biography of Cheba Maria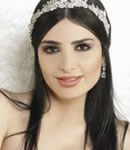 Cheba Maria, Moroccan Raï music singer.
Moroccan-born, Cheba Maria move to France in 1998 in order to make her musical career take off.
Based in Toulouse, Cheba Maria charmed auditors with a strong voice and a joyful personality. Many artists were delighted to host her in their shows. Thus, she sang alongside Cheb Rachid « Enta Ould Bladi » in 1998 which was sold thousands of copies in many countries and especially in Morocco where Cheba Maria is more beloved.
In 1999, Cheba Maria gave her public a new hit « Amalek a Zine », « Zinek Khater » in 2000 and « Rani Mghamra » in 2001.
After having released « Jenetinie » 2003, Cheba Maria participated to the album Rain'b Fever by the single «Mon Bled » with Mohamed lamine and Rohff. The album sold 250.000 copies earned her a Sony Music contract and a first Gold.

Featured with Hamid Bouchnak, Cheba Maria released in 2006 another big hit "Omry".
Place a link to the page of Cheba Maria on your website or blog
Post to your blog
Permanent link
BB CODE
Official Website of Cheba Maria, photo of Cheba Maria, song de Cheba Maria, album of Cheba Maria 2021, music video of Cheba Maria , word of Cheba Maria , listen Cheba Maria mp3