Cheba Nabila -
الشابة نبيلة
Biography of Cheba Nabila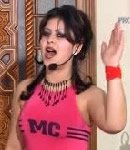 Cheba Nabila, Moroccan Raï female singer.
In only few years, Cheba Nabila built a huge fan base in Morocco and among Moroccan immigrants all over the world.
Cheba Nabila is one of the most acclaimed Moroccan young singers with big sales on her albums. She gave concerts all over the world and performed in prestigious stages of the globe.
Cheba Nabila's best works are : "Rah Lgalb Bghah", "Ma Tjebdou Liya Smito", "Mouk Wa3ra" and "Chouf Fiya O 3teni Waqt".
Comments on Cheba Nabila
Place a link to the page of Cheba Nabila on your website or blog
Post to your blog
Permanent link
BB CODE
Official Website of Cheba Nabila, photo of Cheba Nabila, song de Cheba Nabila, album of Cheba Nabila 2023, music video of Cheba Nabila , word of Cheba Nabila , listen Cheba Nabila mp3