Fatna Bent El Houcine -
فاطنة بنت الحسين
Biography of Fatna Bent El Houcine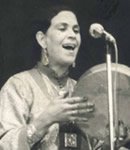 Fatna Bent El Houcine was a Moroccan female singer, locally called Cheikha. She was born in Safi, Morocco.
Orphan, Fatna Bent El Houcine early ran away from her sister's home and joined Kasmiyates troupe of Sidi Bennour. She then moved to Azemmour and entered Ouled Sbita quartet.
Joining later on Cheikha Kaddouj Abdia and Cheikh Mahjoub Rahmani troupe, Fatna Bent El Houcine took off her career by touching the Hassba of Moroccan Abda region. Fatna Bent El Houcine spent ten years with the couple and Cheikha Kaddouj's death, she moved to Casablanca in the 1970s where she entered the cabaret "La Terasse" with her troupe and started an endless series of parties and performances. In 1980, Fatna Ben El Houcine joined Ouled Ben Aguida troupe which will catapult her into stardom.
During a twenty-years collaboration, Fatna Bent El Hocine made a two-hundred-songs discography and performed in over one hundred event in Morocco and beyond.
Fatna Bent El Houcine died in May 2005 in Sidi Bennour of a cerebral haemorrhage.
Place a link to the page of Fatna Bent El Houcine on your website or blog
Post to your blog
Permanent link
BB CODE
Official Website of Fatna Bent El Houcine, photo of Fatna Bent El Houcine, song de Fatna Bent El Houcine, album of Fatna Bent El Houcine 2021, music video of Fatna Bent El Houcine , word of Fatna Bent El Houcine , listen Fatna Bent El Houcine mp3