Groupe Alwane -
مجموعة الألوان
Biography of Groupe Alwane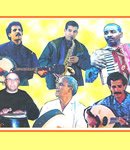 Groupe Alwane is a Moroccan Raï or rather Melt'in Raï group formed in 1999 by a young singer , Adil.
First gathering students from the high school, Alwane later hosted experienced musicians. Its line-up counts now seven members all passionate of the world music. They are :
Adil, born in 1980 in Amiens, France (vocals and keyboard).

Ahmed (Electric guitar) has performed with Five to One group.

Mohamed (Percussions, electroacoustic guitare and vocals) is a former member of Ouagadou band and Les Alchimistes.

Nasser (Battery) is also a former member of Five to One with which he recorded 4 titles.
Belga (Bass and vocals) is a former member of Les Alchimistes.

Farid (Saxo Alto) studied in the conservatories of Lyon and Amiens during two years.
Pierrick (Saxo Ténor) is the latest joined to the group. This English musician is a experienced of Jazz style.
Place a link to the page of Groupe Alwane on your website or blog
Post to your blog
Permanent link
BB CODE
Official Website of Groupe Alwane, photo of Groupe Alwane, song de Groupe Alwane, album of Groupe Alwane 2020, music video of Groupe Alwane , word of Groupe Alwane , listen Groupe Alwane mp3