H-Kayne -
اشكاين
Biography of H-Kayne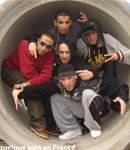 H-Kayne, Moroccan Hip Hop Band.
H-Kayne first appeared on stage in 2003 in Moroccan annual music competition ''Boulevard des Jeunes'' held in Casablanca city. Their performance in front of some 80.000 spectators was a real big success. H-Kayne is then the winner of the best Rap band of the year.
H-Kayne released a first self-produced album "Un son de bled'art" and then followed by a second opus ''HK1426'' which gave birth to a new style they call ''Hip Hop made in Morocco''.
Throughout a successful marriage between pure oriental groovy and Hip-Hop influences, H-Kayne has proven its musical genius. The band also adopts popular lyrics to express their favorite concept: 'Hope'.
H-Kayne last performed in Garorock Festival in France. Their agenda shows other important dates: Le Bataclan (Paris), La vapeur (Dijon) and Le Chabada (Anger).
Place a link to the page of H-Kayne on your website or blog
Post to your blog
Permanent link
BB CODE
Official Website of H-Kayne, photo of H-Kayne, song de H-Kayne, album of H-Kayne 2023, music video of H-Kayne , word of H-Kayne , listen H-Kayne mp3