Haja Hamdaouia -
الحاجة الحمداوية
Biography of Haja Hamdaouia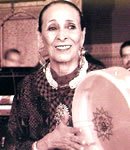 Haja Hamdaouia, popular Moroccan singer born in Casablanca (Morocco).
Haja Hamdaouia is among the rare Moroccan women singers who have contributed to modernize Moroccan popular song of the 1950s.
Haja Hamdaouia is particularly an artist who converted the Aïta Marsawiya genre, which was perceived as immoral, to an independent music style at the very outset of Moroccan television.
Haja Hamdaouia, supported by a patchword orchestra, sang "Daba Yji", "Jiti majiti", "Dada ou hiyani", "Mal hbibi'liya" et "Hna mada bina" still present in musical memory of most Moroccans and mumbled by contemporary singers in Morocco.
Place a link to the page of Haja Hamdaouia on your website or blog
Post to your blog
Permanent link
BB CODE
Official Website of Haja Hamdaouia, photo of Haja Hamdaouia, song de Haja Hamdaouia, album of Haja Hamdaouia 2023, music video of Haja Hamdaouia , word of Haja Hamdaouia , listen Haja Hamdaouia mp3