Hamid Bouchnak -
حميد بوشناق
Biography of Hamid Bouchnak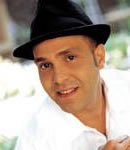 Hamid Bouchnak, Moroccan Raï singer born to Ben Younas Afandi, a well known Arabo-Andalousian music performer.
Before being one of the leading Raï music solo artists, Hamid Bouchnak was a member of Les Frères Bouchnak Band, nicknamed the Raï Knights with whom he sang the very popular ''Hna Mada Bina''.
Hamid Bouchnak began his solo career in the late 1980s. He performed in several countries and worked with renowed artists like Malek on ''Je chante'' or ''Nghanni'' and very recently Cheba Maria on ''Omry''.
Place a link to the page of Hamid Bouchnak on your website or blog
Post to your blog
Permanent link
BB CODE
Official Website of Hamid Bouchnak, photo of Hamid Bouchnak, song de Hamid Bouchnak, album of Hamid Bouchnak 2022, music video of Hamid Bouchnak , word of Hamid Bouchnak , listen Hamid Bouchnak mp3