Hamid El Kasri -
حميد القصري
Biography of Hamid El Kasri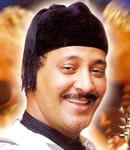 Hamid El Kasri is a Moroccan performer of Moroccan Gnaoua style. He was born in 1961.
Hamid's grandmother's Sudanese husband was a virtuoso of Guembri also called haj'houj. Hamid El Kasri discovered Gnawa Sufi style at the very age of seven.
Later on, his powerful and clear voice made his first steps in musical scene very easy. In only few years, Hamid El Kasri became one of the most important names of Moroccan Gnaoua style. His popularity grew beyond borders and his talent won unanimous recognition.
Hamid El Kasri is an inescapable artist of Gnaoua Festival of Essaouira.
Place a link to the page of Hamid El Kasri on your website or blog
Post to your blog
Permanent link
BB CODE
Official Website of Hamid El Kasri, photo of Hamid El Kasri, song de Hamid El Kasri, album of Hamid El Kasri 2021, music video of Hamid El Kasri , word of Hamid El Kasri , listen Hamid El Kasri mp3