Hasna El Maghribia -
حسناء المغربية
Biography of Hasna El Maghribia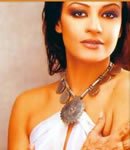 Hasna El Maghribia, also known as Hasna, is a Moroccan female singer.
Hasna is one of the Moroccan singers who succeeded to rise to the front of Arab musical scene for their impressing talent.
Upon a first song, "Yalla Bina Yallah" which was a remake of the folk song of Dalida, Hasna cut her way to success with another remake of the song "Marsoul Al Hob" of renowned Moroccan singer Abdelwahab Doukkali. The title sung with a female a voice earned local and Arab audience's attention. The music video of the song added to the originality of the song for it included elements of Moroccan culture. The song was a big success.
Hasna's following works were: "Choufou Choufou", "Hob Walla" and the latest "Youm Fil Omr" released in 2008 and produced by the prestigious Rotana Recording.
Hasna El Maghribia is now preparing a new album for which she already chose four songs with the assistance of notorious producer Jean Saliba.
Place a link to the page of Hasna El Maghribia on your website or blog
Post to your blog
Permanent link
BB CODE
Official Website of Hasna El Maghribia, photo of Hasna El Maghribia, song de Hasna El Maghribia, album of Hasna El Maghribia 2021, music video of Hasna El Maghribia , word of Hasna El Maghribia , listen Hasna El Maghribia mp3