Hayat El Idrissi -
حياة الإدريسي
Biography of Hayat El Idrissi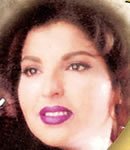 Hayat El Idrissi is a Moroccan female singer.
Hayat El Idrissi is one of the most esteemed Moroccan singers either in Morocco or among Arab countries. Her secret is a strong, charming voice which earned her the name of the Moroccan Oum Kalthoum. She earned wide recognition for having given to Arab musical scene the most acclaimed covers of Essit songs.
Hayat El Idrissi's discography counts a set of successful songs.
Place a link to the page of Hayat El Idrissi on your website or blog
Post to your blog
Permanent link
BB CODE
Official Website of Hayat El Idrissi, photo of Hayat El Idrissi, song de Hayat El Idrissi, album of Hayat El Idrissi 2020, music video of Hayat El Idrissi , word of Hayat El Idrissi , listen Hayat El Idrissi mp3