Hel Lmkane -
هل لمكان
Biography of Hel Lmkane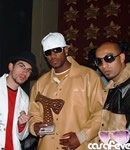 Hel Lmkane, formerly Fes Mafia, is a Moroccan Rap group founded in 1998 by Sabiu and Ismaïl.
Hel Lmkane's first concert was in 2001 in Fez and gained a lot of appreciation from audiences. Encouraged, Hel Lmkane started composing around numerous themes expressing young problems and hopes.
Hel Lmkane launched a first album in 2005 which took the group to several events, concerts, tours and Festivals all over Morocco and beyond.
Hel Lmkane subsequent work is an eighteen-tracked album.
Place a link to the page of Hel Lmkane on your website or blog
Post to your blog
Permanent link
BB CODE
Official Website of Hel Lmkane, photo of Hel Lmkane, song de Hel Lmkane, album of Hel Lmkane 2021, music video of Hel Lmkane , word of Hel Lmkane , listen Hel Lmkane mp3