Hoba Hoba Spirit
Biography of Hoba Hoba Spirit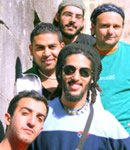 Hoba Hoba Spirit, Moroccan Music band.
Hoba Hoba Spirit is one of the most known bands which emerged from Moroccan musical new tendency. In only a little time, Hoba Hoba Spirit has confirmed itself as one of the most popular music bands in the Moroccan scene as well as all over the world.
Hoba Hoba Spirit discography includes four opuses: Hoba² Spirit(2004), Blad Schizo(2006), Trabondo (2007) and the latest El Gouddam (2008).
Place a link to the page of Hoba Hoba Spirit on your website or blog
Post to your blog
Permanent link
BB CODE
Official Website of Hoba Hoba Spirit, photo of Hoba Hoba Spirit, song de Hoba Hoba Spirit, album of Hoba Hoba Spirit 2023, music video of Hoba Hoba Spirit , word of Hoba Hoba Spirit , listen Hoba Hoba Spirit mp3