Hospital Underground
Biography of Hospital Underground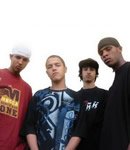 Hospital Underground is a Moroccan Hip Hop band which was formed by four rappers in 2005 in Casablanca, Morocco.
Inspired by Mob Depp, MOP, NAS and Mos Def., the group first release a seven-tracked entitled « Matkhafsh 3lina » in 2006.
Hospital Underground is one of the most promising RAP Casawi figures and the most expected among the new generation of Moroccan RAP. They appeared to public with a duet "Zanka Flow".
Hospital Underground is a strong band because of the talent of each member, the complicity between the line-up, its savant orchestration and the story of their music.
Hospital Underground has worked with notorious Rap artists like Caprice and Masta Flow.
Place a link to the page of Hospital Underground on your website or blog
Post to your blog
Permanent link
BB CODE
Official Website of Hospital Underground, photo of Hospital Underground, song de Hospital Underground, album of Hospital Underground 2021, music video of Hospital Underground , word of Hospital Underground , listen Hospital Underground mp3