Houcine Slaoui -
حسين السلاوي
Biography of Houcine Slaoui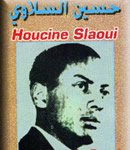 Houcine Slaoui was a popular singer from Sale, Morocco.
Houcine Slaoui grew up in Sale, the city of Zajal - a sort of poetry made especially for Malhoune songs. Sale was always a destination of Andalousy professionals and fans.
Houcine Slaoui showed a big interest to music and an evident interpreting talent which will made him an inescapable of Moroccan Chaâbi music with songs like : "Lalla Yllali", "Ya Mouja Ghani", "Sania Oul Bir", "Hadi Rassk", "El American".
Place a link to the page of Houcine Slaoui on your website or blog
Post to your blog
Permanent link
BB CODE
Official Website of Houcine Slaoui, photo of Houcine Slaoui, song de Houcine Slaoui, album of Houcine Slaoui 2023, music video of Houcine Slaoui , word of Houcine Slaoui , listen Houcine Slaoui mp3