Imane Karkibou -
إيمان كركيبو
Biography of Imane Karkibou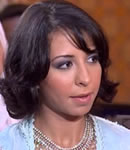 Imane Karkibou is a Moroccan young singer born in Al Hajeb, near to Meknès, Moroccco.
Imane Karkibou began singing during school parties and national and religious celebrations. She also contributed to cultural activities organized by the 'Association Culturelle d'Al Hajeb'. At an early age, Imane had commited all the repertoire of classical Oum Kaltoum, Abdelhalim Hafez and Mohamed Abdelwahab to memory. Later on, she was very impressed by the Syrian singer Assala Nasri./p>
After Imane got her high school degree, she entered the institute of tourism studies. It was her colleagues who encourage her participate to the fourth edition of 2M TV Channel Talent Show, 'Studio 2M'. Other than her beautiful voice, Imane Karkibou seduced audiences by her simplicity and charming personality. As recompense, Imane won the Public Prize thanks to her fans huge votes.
Imane Karkibou has recently released a first single "Bari'a" and created together with some rising musicians a music club.
Place a link to the page of Imane Karkibou on your website or blog
Post to your blog
Permanent link
BB CODE
Official Website of Imane Karkibou, photo of Imane Karkibou, song de Imane Karkibou, album of Imane Karkibou 2023, music video of Imane Karkibou , word of Imane Karkibou , listen Imane Karkibou mp3