Imghrane -
إمغران
Biography of Imghrane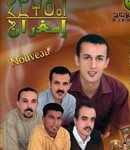 Imghrane is a Moroccan Amazigh band formed in 1991 in Douar Aska, Anou Nadou in Tiznit.
Imghrane's members constantly changed but deeply influenced the band style. Other than its permanent members Mohamed Selk (Banjo) and Abderahmane Hebou (Tom tom), Imghrane also lines up vocalist Habou's brother Larbi and Tahar Abraych.
All native of Tiznit, well-known as the capital of Moroccan Amazigh music, Imghrane's members were very involved in music at a very early age. Ex-performers of Ahwach dance band, virtuosos of traditional flute and rhythm instrument, Imghrane's line-up is full of talent and contributes widely to the notoriety of the band.
Place a link to the page of Imghrane on your website or blog
Post to your blog
Permanent link
BB CODE
Official Website of Imghrane, photo of Imghrane, song de Imghrane, album of Imghrane 2023, music video of Imghrane , word of Imghrane , listen Imghrane mp3