Izenzaren -
إزنزرن
Biography of Izenzaren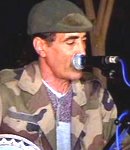 Izenzaren is a Moroccan Amazigh band founded in 1972 by six musicians.
Izenzaren has devoted its music to express Amazigh culture and thoughts. In 1976, Izenzaren made his first appearance on the silver screen. One year later, it gave an astonishing concert on the prestigious stage of the Parisian Olympia and then before the public of the Festival of the Maghrebian song.
Izenzaren is still present in the musical scene compeering numerous festivals and cultural gatherings in Morocco and in other countries.
Place a link to the page of Izenzaren on your website or blog
Post to your blog
Permanent link
BB CODE
Official Website of Izenzaren, photo of Izenzaren, song de Izenzaren, album of Izenzaren 2023, music video of Izenzaren , word of Izenzaren , listen Izenzaren mp3