Jedwane -
جدوان
Biography of Jedwane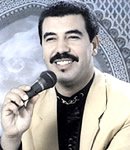 Jedwane, Moroccan Chaâbi music performer, born Mohamed Jedwane, in Rabat, Morocco.
Very impressed by the craze that caused Nass El Ghiwane, Jil Jilala and Lemchaheb and also the big fan base of artists like Ziani, Boutbol ou Hamid Zahir, Jedwane started his singing career in the 1980s.
In late 1983, Jedwane formed his own orchestra and began performing in special events and celebrations till he was discovered by a producer who proposed him a contract.
Jedwane's first album was the seven-tracked "Ana Lamsikina" released in 1987 including four songs written and composed by Jedwane himself. One year later, he launched a second album including a patriotic song : "Janna, janna, maghrib ya watanna".
From 1987 to 1990, Jedwane has released 4 albums. To take a break, he started prepare for a law degree he got a few years later. During four years, Jedwane only released a video cassette in 1992.
In 1994, Jedwane came back with the album "Moul Taxi" and then another album "Khallitini Nsaïn" which was a big hit and revealed him as one of the most celebrated Chaâbi performers in the Moroccan scene. The song of the album is still sung in Moroccan parties and events.
Place a link to the page of Jedwane on your website or blog
Post to your blog
Permanent link
BB CODE
Official Website of Jedwane, photo of Jedwane, song de Jedwane, album of Jedwane 2023, music video of Jedwane , word of Jedwane , listen Jedwane mp3