Laila Ghofran -
ليلى غفران
Biography of Laila Ghofran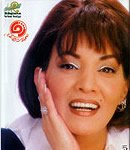 Laila Ghofran, born Jamila ghofrane on March 19, 1961, is a Moroccan-born female singer.
Laila Ghofran rose to stardom thanks to her strong, unique voice. Her first release was an album "Oyounak Amari". She broke through with a song "Bahibak, Bahibak" which was her first video clip.
Laila Ghofran found her way to audiences with her very successful remakes of songs of the legendary Egyptian singer Abdelhalim Hafez. Her performance with "Gabbar", "Kamel El Awsaf" and "Hobbak Nar" was widely appreciated.
Laila Ghofran's great hits are "Bahibak, Bahibak", "Es'alou Eddourouf", "Ahouda El Kalam", "Aktar Men Ayi Wa't".
Laila Ghofran has been married five times and is the mother of three children.
Laila Ghofran is a good painter, swimmer and an unbreakable Billiard player.
Place a link to the page of Laila Ghofran on your website or blog
Post to your blog
Permanent link
BB CODE
Official Website of Laila Ghofran, photo of Laila Ghofran, song de Laila Ghofran, album of Laila Ghofran 2021, music video of Laila Ghofran , word of Laila Ghofran , listen Laila Ghofran mp3