Latifa Raafat -
لطيفة رأفت
Biography of Latifa Raafat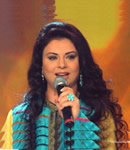 Latifa Raafat is an outstanding Moroccan singer born in 1965 in Kenitra, Morocco.
Latifa Raafat's talent and strong voice took her beyond Morocco borders first to a Maghreb-Arabian fame before she earned a worldwide recognition especially by Moroccan immigrants all over the world.
Latifa Raafat recorded his first single "Mawal Al Hob" in 1982. Three years later, she won the title of the best Moroccan singer with her song "Khoyi Khoyi" and took a path made of consecutive successes with songs like: "Mghyara", "Yahli Ya3chrani", "Ana F3ark", "Chahloula"…
In 2006, Latifa Raafat came back to Moroccan scene with a successful duet with Mohamed Lamine "Twahachtak Bzzaf".
Latifa Raafat is one of the few Moroccan artists to refuse any success beyond Moroccan borders and face an overwhelming wave of artists immigration to Arab countries to realize their stardom dream.
Place a link to the page of Latifa Raafat on your website or blog
Post to your blog
Permanent link
BB CODE
Official Website of Latifa Raafat, photo of Latifa Raafat, song de Latifa Raafat, album of Latifa Raafat 2021, music video of Latifa Raafat , word of Latifa Raafat , listen Latifa Raafat mp3