Lemchaheb -
لمشاهب
Biography of Lemchaheb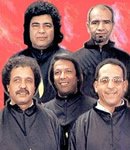 LemChaheb is a Moroccan band.
LemChaheb first appeared in the Moroccan scene in the late 1960s while Lamrani Moulay Chrif, together with some Western music fans, formed the band "Sound of Today". The band performed Moroccan songs with Western instruments and later changed its name to Lamchaheb – which means in Moroccan dialect torches that mountains inhabitants made to scare animals and keep them far from the village. The name of the group was very significant.
In the same time, another group, Nass El Ghiwane was cutting its way to fame and collected a lot of admiration because of its traditional style. LemChaheb started giving up its Western instruments and adopting more traditional conception of the group which quickly grew its popularity.
Lamchaheb's most acclaimed songs are : "Khlili", "Rsami", "Ednya", "Moulana",
Comments on Lemchaheb
Place a link to the page of Lemchaheb on your website or blog
Post to your blog
Permanent link
BB CODE
Official Website of Lemchaheb, photo of Lemchaheb, song de Lemchaheb, album of Lemchaheb 2020, music video of Lemchaheb , word of Lemchaheb , listen Lemchaheb mp3