Meryem Benmir -
مريم بنمير
Biography of Meryem Benmir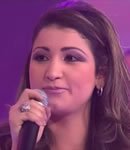 Meryem Benmir is a Moroccan singer.
Born to a father composer, Meryem Benmir grew up with the sound of notorious Moroccan artists like Naima Samih, Mohammed Fouiteh, Abdelhadi Belkhayat, Abdelouhab Doukkali and Arab such as Oum Keltoum, Mohammed Abdelouhab, Najat Saghira which help her make her decision as soon as she discovered her attraction to music and he talent.
At the age of thirteen, Meryem Benmir was the winner of the fifth edition of the Festival of Moroccan song. She also won the Gold Medal in the Tunisian Bougrnine Festival. During Alexandria Festival, Meryem Benmir won the International prize in the category Mediterranean.
Very recently, Meryem was awarded the jury of Algiers festival held in novembre and organized by the Radiophone Union of Arab countries.
Meryem Benmir's brilliant career is all front of her.
Place a link to the page of Meryem Benmir on your website or blog
Post to your blog
Permanent link
BB CODE
Official Website of Meryem Benmir, photo of Meryem Benmir, song de Meryem Benmir, album of Meryem Benmir 2023, music video of Meryem Benmir , word of Meryem Benmir , listen Meryem Benmir mp3