Mohamed Derhem -
محمد الدرهم
Biography of Mohamed Derhem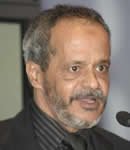 Mohamed Derhem is a renowned Moroccan singer, composer and song writer.
Mohamed Derhem is well-known as a member of the Moroccan legendary Jil Jilala band with which he started his musical career, while still a performing art student and rose to fame thanks to songs like "Chamaa", "Zaraa El Rih" and others.
After having launched his solo career, Mohamed Derhem quitted Jil Jilala and released his first solo work "Essakn".
Mohamed Derhem's discography also includes a duet with young multi-talented musician Elam Jay. The song was titled "Lagnaoui" and earned much popularity.
Place a link to the page of Mohamed Derhem on your website or blog
Post to your blog
Permanent link
BB CODE
Official Website of Mohamed Derhem, photo of Mohamed Derhem, song de Mohamed Derhem, album of Mohamed Derhem 2021, music video of Mohamed Derhem , word of Mohamed Derhem , listen Mohamed Derhem mp3