Mohamed El Hayani -
محمد الحياني
Biography of Mohamed El Hayani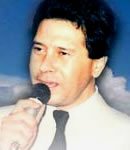 Mohamed El Hayani, Moroccan singer, was born in Casblanca, Morocco in 1945.
Still in the blush of youth, Mohamed El Hayani had only one passion: Music. Having made his talent evident, Mohamed El Hayani joined National radio station choir, encouraged by Abdelkader Rachdi.
Mohamed El Hayani has recorded his first song "Ya Oulidi" in the late 1960s just a little time before bewitching audiences through "Rahila", a mythic song composed by the late Abdessalam Amer and still as strongly present in Moroccan repertoire of music.
Other hits of Mohamed El Hayani were "Bard Ou Skhoun", "Ghabou Lhbab", "Imta Tghanni Ya Galbi", "Qissat Alachwaq". El Hayani also entered the big screen in 1982 starring alongside Hammadi Ammour and Habiba Medkouri in "Doumou3 Nadam" directed by Hassan El Moufti. The film seduced a large audience.
Mohamed El Hayani was credited as the Moroccan Nightingale. El Hayani has sang in Tunisia and Algeria where his 'Arab authentic music' was especially cheered.
Mohamed El Hayani died october 24, 1996 at the age of 50. He was one of Moroccan modern music pioneer.
Comments on Mohamed El Hayani
Place a link to the page of Mohamed El Hayani on your website or blog
Post to your blog
Permanent link
BB CODE
Official Website of Mohamed El Hayani, photo of Mohamed El Hayani, song de Mohamed El Hayani, album of Mohamed El Hayani 2023, music video of Mohamed El Hayani , word of Mohamed El Hayani , listen Mohamed El Hayani mp3