Mohamed Rouicha -
محمد رويشة
Biography of Mohamed Rouicha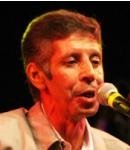 Mohamed Rouicha, Moroccan-born Berber singer.
Mohamed Rouicha quitted school at the age of 11.
Mohamed Rouicha is above all a virtuoso of the very tough Moroccan traditional instrument ''Outar''. His songs « bini w'binek darou l'hdouden » and « Ya l'hbiba » had a big success and contributed to draw him a Moroccan star portrait.
Mohamed Rouicha sings about love, peace, patriotism, life and death.
Place a link to the page of Mohamed Rouicha on your website or blog
Post to your blog
Permanent link
BB CODE
Official Website of Mohamed Rouicha, photo of Mohamed Rouicha, song de Mohamed Rouicha, album of Mohamed Rouicha 2020, music video of Mohamed Rouicha , word of Mohamed Rouicha , listen Mohamed Rouicha mp3