Nabyla Maan -
نبيلة معان
Biography of Nabyla Maan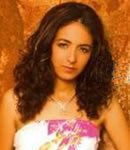 Nabyla Maan, Moroccan songwriter, composer and interpret, was born in Fes, Morocco.
At the age of seventeen, Nabyla Maan has launched her debut album "D'nya" on the label Platinium Music, including 11 tracks and a duet with former member of "Nass El Ghiwane", Omar Sayed, titled "Allah Ya Moulana". Thanks to its popularity, the song met two different generations by the power of music.
Fan of Nass El Ghiwane, Nabyla Maan gave a new breath to another big hit Ghiwanesk "Essinya" with techno rhythms. It was «Hina kalat», written by Nabyla's father which revealed her creativity high quotient.
Paired with the popular Moroccan singer Saïda Fikri, Nabyla Maan won the esteem of numerous Moroccan figures of music including the famous composer and singer Maled, also artistic director of Platinium Company.
Nabyla's latest album gives a genius mix of oriental-maghrebin melodies and rock Rhythms ranking the opus among the best works in Moroccan musical scene.
Comments on Nabyla Maan
Place a link to the page of Nabyla Maan on your website or blog
Post to your blog
Permanent link
BB CODE
Official Website of Nabyla Maan, photo of Nabyla Maan, song de Nabyla Maan, album of Nabyla Maan 2022, music video of Nabyla Maan , word of Nabyla Maan , listen Nabyla Maan mp3