Nadia Ayoub -
نادية أيوب
Biography of Nadia Ayoub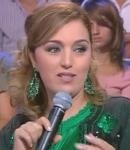 Nadia Ayoub, is a Moroccan singer. She is entering the world of song, from an early age.
Thanks to its power of her voice, talent and unique style, she manages to distinguish itself as one of the most beautiful female voices Moroccan.
Nadia Ayoub participated in several artistic events. In 1988, she won the Grand Prix of the Cairo International Festival of Song and Arabic music.
Place a link to the page of Nadia Ayoub on your website or blog
Post to your blog
Permanent link
BB CODE
Official Website of Nadia Ayoub, photo of Nadia Ayoub, song de Nadia Ayoub, album of Nadia Ayoub 2023, music video of Nadia Ayoub , word of Nadia Ayoub , listen Nadia Ayoub mp3