Naima Samih -
نعيمة سميح
Biography of Naima Samih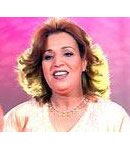 Naima Samih is a popular Moroccan singer born in the south of Morocco.
Naima Samih started singing at the age of nine. Almost immediately, she gave up school and entered a sewing workshop that she quitted as soon.
In the early 1970s, Naima Samih participated to Abdelkader Rachdi talent show « Mawahib » and earned hearty applause from both the jury and the audiences. During the following decade, Naima conquered Arab esteems and sang "Yaka Ajarhi", a pearl of her discography.
Naima is reputed to have always been singing her own pains and suffers. She was called Edith Piaf of Morocco. During her thirty-years-career, she collaborated with eminent Moroccan songwriters and composers. She constantly has been against seeking fame outside Morocco.
Place a link to the page of Naima Samih on your website or blog
Post to your blog
Permanent link
BB CODE
Official Website of Naima Samih, photo of Naima Samih, song de Naima Samih, album of Naima Samih 2022, music video of Naima Samih , word of Naima Samih , listen Naima Samih mp3