Najat Aatabou -
نجاة اعتابو
Biography of Najat Aatabou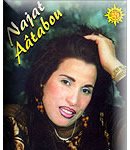 Najat Atabou, Moroccan Chaâbi music performer.
Born to a conservative family, Najat Atabou chose a musical career despite of her parents disapproving. She had quitted her home in Khemissat (Morocco) at a young age.
Najat Atabou appeared on stage in 1981 with a song ''J'en ai marre'' inspired by a true story of one Najat's friends. After the success of the song, Najat Atabou felt deeply concerned by women's problems and thought about dedicating her voice to women.
Thus, Najat Atabou released numerous songs about love, marriage, lies, unfaithfulness, prostitution… such as ''Kdba Bayna'', ''Choufi Ghirou''. She also sang about society illnesses as unemployment, money and illegal immigration.>
Place a link to the page of Najat Aatabou on your website or blog
Post to your blog
Permanent link
BB CODE
Official Website of Najat Aatabou, photo of Najat Aatabou, song de Najat Aatabou, album of Najat Aatabou 2020, music video of Najat Aatabou , word of Najat Aatabou , listen Najat Aatabou mp3