Nass El Ghiwan -
ناس الغيوان
Biography of Nass El Ghiwan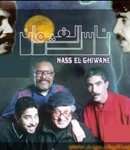 Nass El Ghiwan, moroccan band, lined up five artists : Larbi Batma, Alal Yaala, Omar Sayed, Aderhmane Paco, Boujmaa from Hay Elmohamadi, Casablanca (Morocco).
When first formed in the 1970s, Nass El Ghiwan did not suspected it will lead further artistic revolution.
Nass El Ghiwan began performing in their district area. Their first act was in the ''Nautilus Club'' in Casablanca.
Nass El Ghiwan last titles were "Ya bani l insân", "Ahl el hal", "Çiniya".
Comments on Nass El Ghiwan
Place a link to the page of Nass El Ghiwan on your website or blog
Post to your blog
Permanent link
BB CODE
Official Website of Nass El Ghiwan, photo of Nass El Ghiwan, song de Nass El Ghiwan, album of Nass El Ghiwan 2023, music video of Nass El Ghiwan , word of Nass El Ghiwan , listen Nass El Ghiwan mp3