Nouamane Lahlou -
نعمان لحلو
Biography of Nouamane Lahlou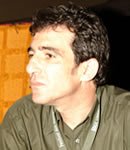 Noumane Lahlou, Moroccan singer, composer and musician.
Noumane Lahlou first composed for numerous Moroccan artists such as Latifa Raafat. He also worked with notorious Arab artists like Diana Hadad and Wadii Assafi for songs with Moroccan rhythms. Noumane Lahlou is also a music professor.
Noumane Lahlou most popular works are: "Bladi Ya Zin Lboudane", and the latest "Lamdina Laqdima".
Place a link to the page of Nouamane Lahlou on your website or blog
Post to your blog
Permanent link
BB CODE
Official Website of Nouamane Lahlou, photo of Nouamane Lahlou, song de Nouamane Lahlou, album of Nouamane Lahlou 2023, music video of Nouamane Lahlou , word of Nouamane Lahlou , listen Nouamane Lahlou mp3