Numydia
Biography of Numydia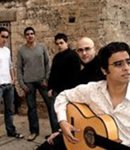 Numydia is a Moroccan band which was created in 2004 by young musicians from Rabat, Morocco.
Numydia's line-up is Tarik Hilal (Guitar), Badr Lekhal (Vocals), Omar Mhammedi (Guitar), Omar Errahali (Cajon), Hicham Errahali (Drums) and Nizar Najmi (Bass).
Numydia music is a long trip across Moroccan territory from the north to the south. Numydia's repertoire comprises compositions of its founder member Tarik Hilal. It is sometimes a revisited traditional music, sometimes the very modern portrait of Moroccan music.
Place a link to the page of Numydia on your website or blog
Post to your blog
Permanent link
BB CODE
Official Website of Numydia, photo of Numydia, song de Numydia, album of Numydia 2020, music video of Numydia , word of Numydia , listen Numydia mp3