Oudaden -
بنات اودادن
Biography of Oudaden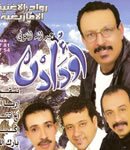 Oudaden, Moroccan Amazigh band.
Oudaden was formed in the early 1980s and marked the begining of a new generation of Moroccan music based on fast-rhythmed songs and romantic lyrics inspired by Rwayses' poetry like Rays Achtouk whose works kept influencing the band's music later.
Oudaden's music did not pain to conquer a large audience especially among women. Regularly productive, Oudaden made a huge repertoire of very inspiring songs.
Oudaden's best works include: "Barek Allah Ayjade3", "Ikidir", "Oudourtlat Ouyouliz"…
Place a link to the page of Oudaden on your website or blog
Post to your blog
Permanent link
BB CODE
Official Website of Oudaden, photo of Oudaden, song de Oudaden, album of Oudaden 2023, music video of Oudaden , word of Oudaden , listen Oudaden mp3