Rachid Lamrini -
رشيد المريني
Biography of Rachid Lamrini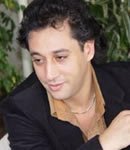 Rachid Lemrini, also spelled Rachid Lamrini, is a Moroccan popular singer born in Casablanca, Morocco.
Born to an artistic family, Rachid started singing at the age of ten. Later, he performed in private parties and special events where he sculpted his musical prowess and nurtured a taste for Chaâbi style till he succeeded to impose himself as one of the most important singers on Moroccan Chaâbi scene through a mix of traditional melodies, Arab Andalousy music and Salsa rhythms.
Rachid Lemrini was revealed to public thanks to 2M TV Channel which produced for him a music video aired in 2003.
Rachid Lemrini has recently formed an orchestra, together with his three brothers. The group is invited in many festivals in Morocco and beyond.
Place a link to the page of Rachid Lamrini on your website or blog
Post to your blog
Permanent link
BB CODE
Official Website of Rachid Lamrini, photo of Rachid Lamrini, song de Rachid Lamrini, album of Rachid Lamrini 2020, music video of Rachid Lamrini , word of Rachid Lamrini , listen Rachid Lamrini mp3