Raiss Tijani -
رايس تيجاني
Biography of Raiss Tijani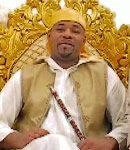 Raiss Tijani is a French performer.
Raiss Tijani's style is a mystic mix of Hip-hop, Funk, Soul and Berber he called Hip-Soul Music denoted especially in his first album.
Since his beginnings Raiss Tijani used to share the stage with notorious artists such as Gloria Gaynor, Macéo Parker & Fred Wesley, The JB's' and others alongside whom he knew how to impose his own style which seduced different generations and ethnicities.
Place a link to the page of Raiss Tijani on your website or blog
Post to your blog
Permanent link
BB CODE
Official Website of Raiss Tijani, photo of Raiss Tijani, song de Raiss Tijani, album of Raiss Tijani 2023, music video of Raiss Tijani , word of Raiss Tijani , listen Raiss Tijani mp3