Rajaa Kessabny -
رجاء قصابني
Biography of Rajaa Kessabny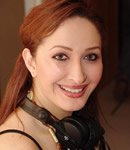 Rajaa Kessabny, also Rajaa, is a Moroccan female singer born in 1979 in Morocco.
Rajaa is famous for being the winner of Rotana's Talent show X Factor in 2006. Fresh out, Rajaa released a first including the song ''Estaghrabt lhal donya" which was a huge success and shot the video clip of the song "Moch Helwe Achanou".
Rajaa is now working on her second album which will be produced by Rotana.
Place a link to the page of Rajaa Kessabny on your website or blog
Post to your blog
Permanent link
BB CODE
Official Website of Rajaa Kessabny, photo of Rajaa Kessabny, song de Rajaa Kessabny, album of Rajaa Kessabny 2023, music video of Rajaa Kessabny , word of Rajaa Kessabny , listen Rajaa Kessabny mp3