Rajae Belmlih -
رجاء بالمليح
Biography of Rajae Belmlih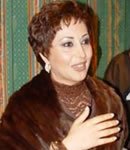 Rajae Belmlih is a famous Moroccan performer, she was born on April 22nd, 1962.
Belmlih began to sing very small, at home and with the encouragement of his parents. She participated in the famous 1980s talent show 'Mawahib' presented by Abdenbi El Jirari and won the first place.
Rajae graduated her Bachelor in Arabic Litterature and Philosophy from the University of Letters in Rabat and enrolled for a doctorate.
She immigrated to Egypt and launched her first albums 'Sabri Alik Tal ' (1994),' Ya Ghayeb ' (1996) ,' Letiraf ' (1998) which were very successful in the Arabic world.
She worked with the famous composers such as Jamal Salams, Mohamed Diae, Hilmi Bakr and Salah Chernoubi.
In 1999, Rajae Belmlih was named a UNICEF goodwill ambassador for her contributions in the Arabic arts, humanitarian actions, and for her support for women's education.
Suffering from a disease of Cancer, she was hospitalized in Paris and then back to his large audience by a successful album entitled ' Shouk El Oyoun'.
The singer of 'Ya Jara Wadina' died on September 2nd, 2007, in Sheikh Zayed hospital in Rabat. Rajae Belmlih was the mother of a child named Omar (5 years) and had the Emirati Citizenship.
Place a link to the page of Rajae Belmlih on your website or blog
Post to your blog
Permanent link
BB CODE
Official Website of Rajae Belmlih, photo of Rajae Belmlih, song de Rajae Belmlih, album of Rajae Belmlih 2023, music video of Rajae Belmlih , word of Rajae Belmlih , listen Rajae Belmlih mp3